The Malawi Social Cash Transfer Programme (SCTP) is a government program that sends cash regularly to ultra-poor families in Malawi in an effort to reduce hunger, reduce poverty, and increase school enrollment. From 2013 to 2015 our team conducted an evaluation of the program, looking at how it affected program beneficiaries' lives and livelihoods in two districts within Malawi. Now, five years later, we began a follow-up study with that same cohort to learn about the program's long-term effects. Year 1, in 2020, focused on recontacting the households and household adults. This was complex as events during the intervening years–including moves, births, deaths, and marriages–meant that households may have shifted or no longer exist.
Year 1 data collection had 2 parts–a questionnaire and dried blood spot (DBS) collection. The questionnaire was part of the original study but the DBS collection was a new part of this follow-up study. DBS collection, while becoming more common, still mainly occurs in indoor facilities as, ideally, DBS samples are to be kept cool, dry, and free of dust to protect sample integrity. 
Many of the recommendations around DBS assume that collection will happen in such places, and with water and electricity available. Not every collection site, however, can guarantee these conditions. Rural areas and low-resource settings may not have these amenities and may have the added challenges of being remote with difficult terrain (hills, rivers, uneven roads, etc.).
Our study was in the later camp and our sample collectors focused on methods that allowed us to collect dried blood spots in rural, low-resource areas while still protecting the viability of the samples.
What are the logistical challenges of collecting blood spots in rural, low-resource areas?
In our case, we were collecting in rural Malawi. This meant that it was often dusty, collection occurred outdoors, and clean water was not guaranteed. Often our DBS collectors had to walk kilometers on foot or travel by motorcycle through hills, wind, rain, and sometimes rivers. A key challenge was to balance sample integrity while also being realistic about what was feasible for DBS collectors.
What method did your team develop? What were the materials? How did you develop the container?
To preserve the integrity of the blood spots we had to ensure that the cards were kept dry of dust while they were drying. Once dry we had to ensure that, once collected, they were kept cold for preservation purposes.
To achieve this we procured a few key items to solve common problems:
Problem: Maintaining DBS card integrity from the collection site to the vans
Solution: Toolboxes
The team bought small, plastic toolboxes to carry DBS cards between the household collection sites and the van. These tool boxes—similar to the ones carpenters or handyman carry—were lightweight and durable. They kept off the rain and dust. These toolboxes were purchased off the shelf from a local hardware shop. The DBS kits we purchased each came with a foldable plastic drying rack, meant to be stood up on the collection table. We placed these racks horizontally in the toolboxes to keep the cards upright during transportation from the collection site to the car.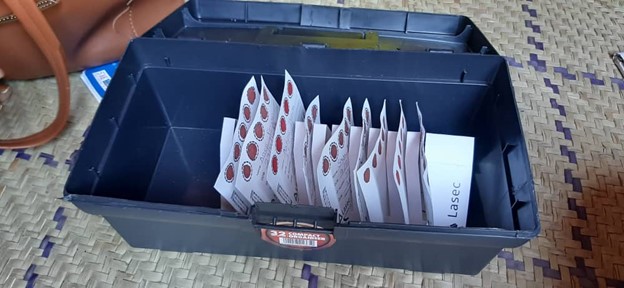 Problem: DBS cards need to dry away from dust and light
Solution: Wooden drying boxes
We had a carpenter custom build a wooden drying rack. Each van was outfitted with a drying rack. These racks were based off of the plastic drying racks available for purchase in the U.S. They looked and functioned similarly to a CD tower, with a thin slot for each card. When the collector returned to the vehicle they would move the card from the toolbox and place it in one of the slots. The cards remained in the box until end of day. At the end of the day these boxes were brought back to the local team headquarters.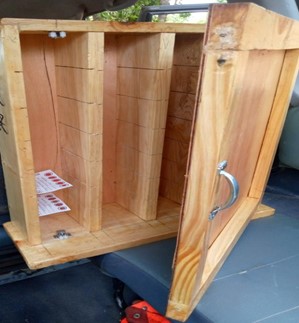 Problem: Keeping samples cold until they reached the deep freezers for long-term storage
Solution: Mini fridges
Minifridges were procured and kept at each team headquarters. When teams returned from the field at the end of each day, DBS cards were moved from the wooden drying boxes onto a table and left there overnight. This was done to ensure thorough drying of the samples before being put into the minifridge  the next morning. The fridges were basic minifridges that were bought from a local appliance store. These fridges kept the cards cold and stable until they could be transported to the deep freezers at UNC Projects Malawi in Lilongwe for long-term storage. Cards would be driven in batches to Lilongwe every 3-4 days, packed in a cooler with ice packs to maintain the cold chain.
Is there anything you would do differently next time?
We would have reduced paperwork burden for the collection teams. Initially we created very detailed paper forms for reporting any protocol deviations during blood spot collection.  Due to the challenging terrain and weather, however, keeping this paperwork organized, uncrumpled, and dry was a challenge. In response to this challenge, we ended up creating a shortened form with a list of common deviations that could be used for multiple households, though even using this shortened form was difficult due to the field conditions. In hindsight, it may have been wise to investigate the feasibility of using the tablets for this to eliminate the need for paper altogether.
What advice would you have for other researchers who want to collect blood spots in rural field areas?
Think about each individual step in the process. It helped us to write down a very detailed step by step protocol early on in the process, including an explanation of why that protocol was important, and sharing this with our Malawian research team so they could identify potential challenges. As mentioned earlier, the standard protocols we found online or in the kits were appropriate for very different data collection conditions. Writing down the steps helped the team think about the supplies we would need for our specific situation, the logistics of each point in the process, and what personnel training would be required.
Anything else to add?
Consider the weather. We had to shape our protocol based on the terrain, climate, and season. This is particularly important if data collection occurs outside or if study personnel are exposed to the elements, such as on foot or motorcycle. In our case, part of the data collection occurred during the rainy season, which added an additional layer of complexity.
We found these outside sources helpful when we were thinking through our data collection:
Sikombe, K., Hantuba, C., Musukuma, K., Sharma, A., Padian, N., Holmes, C., Czaicki, N., Simbeza, S., Somwe, P., Bolton-Moore, C., Sikazwe, I., & Geng, E. (2019). Accurate dried blood spots collection in the community using non-medically trained personnel could support scaling up routine viral load testing in resource limited settings. PLOS ONE, 14(10), e0223573. https://doi.org/10.1371/journal.pone.0223573
"Blood Collection and Handling – Dried Blood Spot (DBS)." (2005) World Health Organization. Retrieved from: https://www.who.int/diagnostics_laboratory/documents/guidance/pm_module14.pdf?ua=1