Researchers have developed a new online store that can be used for testing the impact of different policies and interventions on consumers' purchasing behavior. Lola's Grocery was designed to have the look and feel of a typical modern online grocery.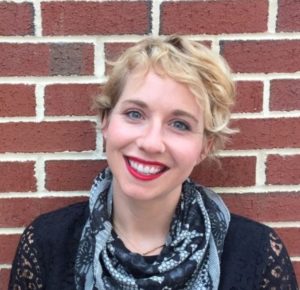 "Our team built this store for a specific study – to test warning labels and taxes on specific products – but then we quickly realized that we could use the store to develop and test all types of point-of-purchase policies and interventions. For example, we plan to examine how different 'nudges,' such as swaps or product placements, can be used to promote healthier purchases among parents," says Lindsey Smith Taillie, PhD, an Assistant Professor of Nutrition at the UNC Gillings School of Global Public Health and a Faculty Fellow at the Carolina Population Center.
Taillie and her research team knew there had been little guidance on how best to create an online grocery store platform, and they decided to publish their process in order to help other researchers who were interested in developing similar platforms. Taillie; the paper's first author Pasquale Rummo, PhD, of New York University's Grossman School of Medicine; UNC's Isabella Higgins, MPP, and Annamaria Vesely, MS; University of Edinburgh's Lindsay Jaacks, PhD; and University of South Carolina's Christina Chauvenet, PhD, published "A Standardized Guide to Developing an Online Grocery Store for Testing Nutrition-Related Policies and Interventions in an Online Setting" online April 22, 2021, in the International Journal of Environmental Research and Public Health.
We interviewed Smith Taillie about the project and the methods that her team developed.
What are the typical logistical challenges of testing how policies and interventions impact purchasing behavior? What method did your team develop? Why did you decide to use an online store? What kind of data did you collect?
LST: Randomized controlled trials (RCTs) are the gold standard when trying to understand the causal impact of policies and interventions. However, we really can't use RCTs to assess policies in the real world. There are rare instances in which natural experiments occur (e.g., lottery used to provide social services to half a population), but oftentimes researchers have to rely on econometric analyses to try and understand causation. Such methods are great, but many assumptions have to be made and being really sure of the causal impact of a policy isn't as clear cut.
Our team is interested in studying the impact that different policy interventions have on food and drink purchasing and consumption with the end goal of finding policies that help to promote healthier decision making and improve public health. So, we're constantly thinking of different ways we can get closer and closer to understanding the causal impact of policies. In an ideal world, we'd be able to do conduct policy RCTs in real-life retailers. However, working with food retailers can be very complex and we can't always explore the range of policies that we would like.  As a result, we have added the use of a realistic online grocery store platform as one of our many research tools.  This platform is great as it allows us to randomize people to different versions of the same online grocery store and we can perform an RCT in a much more realistic setting. For example, our store has over 10,000 products and was developed to resemble Walmart.com, the US top grocer. This is great because it offers consumers a range of real choices and similar prices to what they would be facing in real life.  An online grocery store platform is also really great, because we seen a spike in online grocery store purchasing with the onset of the pandemic. So this is a realistic setting that is becoming more and more frequently used.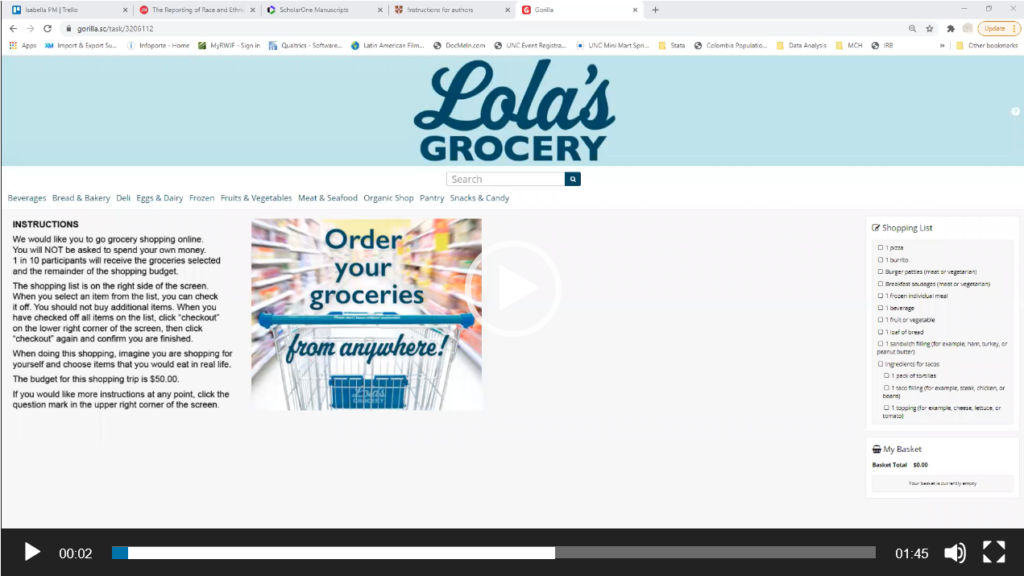 We plan to use this online grocery store to test a variety of interventions and target various foods and beverages. For our first experiment, we will be testing the impact of taxes and warning labels (both health and environmental) on consumers' purchases of products containing red meat. Participants will be randomized to see the store one of four ways: with no intervention applied (control), a 30% tax applied to all products containing red meat, a health and environmental warning label applied to all product. Participants will be provided with a shopping list, and our primary outcomes are 1) count of products in shopping basket that contain red meat and 2) percent of products in shopping basket that contain red meat. We predict the interventions will be effective in reducing the amount of products selected that contain red meat.
The next thing we are testing is whether we can use 'nudges'- like how products are placed in the search results, or using pop-ups to offer healthier swaps- to help parents make healthier drink choices for young kids. We're also exploring the possibility of expanding the store to other countries, like Colombia and Brazil, where a number of food policies are under active consideration by their governments. Our hope is that this is a tool that lots of researchers can use to conduct rigorous but realistic RCTs to inform food policy. ;
Is there anything you would do differently next time?
LST: Preparing the online grocery store for use was quite an undertaking! We had to figure out how to get our data cleaned and prepared for presentation in the online grocery store. These data included product information like price, calories, fat, sugar, and even the product images. Our final dataset contains approximately 13,000 products, so you can imagine how much time it took us to prepare. To help other researchers interested in using online grocery stores to study food policy interventions, we have actually developed and published a protocol [insert link]. This will be a great resource for other researchers and ourselves as we prepare other datasets for future experiments on the platform.
What advice would you have for other researchers who want to do this? In what scenarios does it make sense? Is there anything else to consider?
LST: I'd say, go for it! This is a really great platform for testing out numerous interventions such as warning labels, food swap suggestions, discounts, taxes, and advertisements. We are excited just thinking about all the potential policies our research could help to inform.
Thank you to Isabella Higgins for her work on this report.